Check-out our Township's NEW Code of Ordinances, indexed and easy to use!
FLASH FLOODING 
Heavy rain events such as those experienced this summer of 2018 often create dangerous flooding situations, including many roads throughout PA being forced to close.  During such times, residents are strongly encouraged to use www.511PA.com to check the latest updates and road closures."  #DriveSafe #ArriveAlive #TurnAroundDontDrown
ROAD ALERT
Motorists can check conditions on major roadways by visiting www.511PA.com. 511PA, which is free and available 24 hours a day, provides traffic delay warnings, weather forecasts, traffic speed information and access to more than 860 traffic cameras.
ANNOUNCEMENTS & ALERTS:
The Blair Township Municipal Office is seeking qualified applicants to fill a vacant Clerk position.
No Telephone Inquiries.
Office Clerk
The Blair Township Supervisors are currently seeking an individual to fill an upcoming vacancy in their Municipal Office. Successful candidates will answer phone calls, assist the public with questions or concerns, assist the codes officer with the building permit process, work closely with the police and highway departments, maintain Township records, and provide administrative support to ensure efficient operation of office. The qualified candidate will possess a High School Diploma or equivalent, 3 years of administrative assistant or office experience, proficiency in Microsoft Office applications, data entry, excellent oral and written communication skills, and strong organizational skills. Quickbooks experience a plus, but not necessary. Must be willing to attend training both in person and electronically. Must have a valid PA Driver's License and be able to pass background check and drug screening. Working hours are M-F 8:00 a.m. to 4:00 p.m. with rare evening hours. Competitive salary with excellent benefits package. Please send resume with cover letter to:
Blair Township/Employment
375 Cedarcrest Drive
Duncansville, PA 16635
---
Damage caused by snow plowing and/or highway maintenance:
The Blair Township Highway Department avoid damaging anyone's property. However, mailboxes are often placed in the Township's legal right-of-way. The Township is not liable for damages to mailboxes, fencing, shrubbery, trees, etc. caused by snow removal or other maintenance operations when placed within the Township's right-of-way.
Notice to Property Owners: When removing snow from private property it is not to be plowed, shoveled, or blown on to public streets.
---
The Rite Aid Pharmacy KidCents Foundation has partnered with the Blair Township Police Department to provide a safe and secure location to dispose of unwanted medications by donating a prescription drug drop off box which is located inside the lobby at 375 Cedarcrest Drive, Duncansville, Pa. 16635.
Community members are welcome to drop off unwanted medications during Township business hours between 8am-4pm, Monday thru Friday. No appointment is necessary, and all drop offs are anonymous. Just place the unwanted medications in the box and leave.
We suggest that all prescribed medications to be disposed of be contained inside their original packaging or placed inside a small sealed container (i.e. plastic bottle) or zip-lock bag and any personal information be removed or marked out with a permanent marker.
Items that are ACCEPTABLE to be dropped off.
• Over-the-counter medications
• Prescription medications
• Prescription patches
• Prescription ointments
• Vitamins
• Pet medicines
The following are NOT ACCEPTABLE to be dropped off.
• Hydrogen peroxide
• Compressed cylinders or aerosols (e.g., asthma inhalers)
• Iodine-containing medications
• Thermometers
• Alcohol & illegal drugs (i.e. marijuana, heroin, LSD, etc.)
• Needles (Sharps)
• Ointments, lotions or liquids
We encourage everyone to take advantage of this drop off location to help keep unwanted medications out of the hands of our children and teens.
---
2023 Annual Yard Waste Pick Up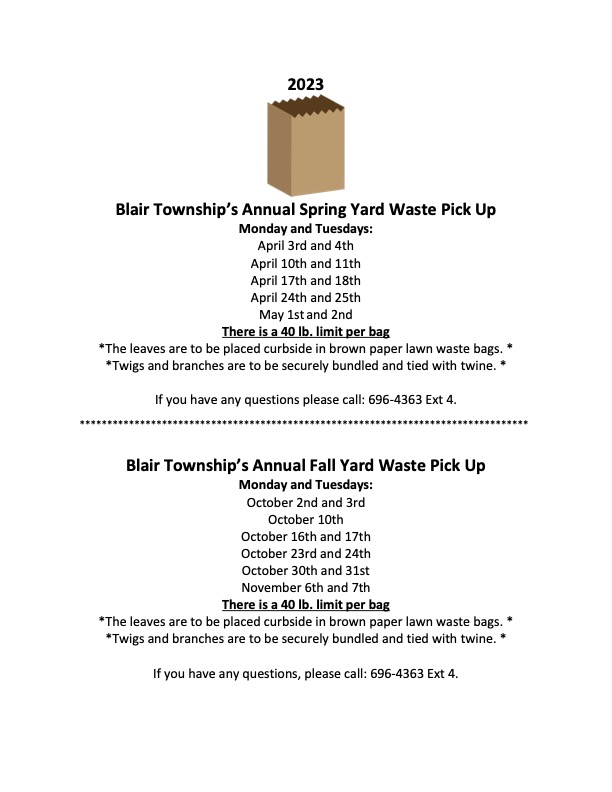 ---
BLAIR TOWNSHIP BUSINESS OFFICE:
814-696-4363
375 Cedarcrest Drive, Duncansville, Pa 16635
Hours: 8:00AM – 4:00PM
Monday through Friday
Except holidays
Stormwater management in the Township is a significant focus. Pennsylvania State regulations require the Townships to provide educational information to the public on stormwater management and ways to control our stormwater to lessen the impact on our streams and rivers.
Blair Township cooperates with Blair County Conservation District for the review of development plans, public education, outreach and enforcement.  The Conservation District website gives an overview of stormwater management.  The link is: www.blairconservationdistrict.org/stormwater_management.htm
The Pennsylvania Department of Environmental Protection has a website with a variety of information on stormwater management: http://www.dep.pa.gov/Business/Water/CleanWater/StormwaterMgmt/Pages/Be-Stormwater-Smart-.aspx .
Informational Handouts you may find helpful in storm water management are posted below:
CLICK HERE TO LEARN MORE ABOUT
STORMWATER MANAGEMENT IN BLAIR TOWNSHIP

---
THE TOWNSHIP OF BLAIR IS AN EQUAL
OPPORTUNITY PROVIDER AND EMPLOYER.

---
If you wish to file a Civil Rights program complaint of discrimination, complete the USDA Program Discrimination Complaint Form (PDF), found online at http://www.ascr.usda.gov/complaint_filing_cust.html, or at any USDA office, or call (866) 632-9992 to request the form. You may also write a letter containing all of the information requested in the form. Send your completed complaint form or letter to us by mail at U.S. Department of Agriculture, Director, Office of Adjudication, 1400 Independence Avenue, S.W., Washington, D.C. 20250-9410, by fax (202) 690-7442 or email at [email protected]