BLAIR TOWNSHIP POLICE DEPARTMENT: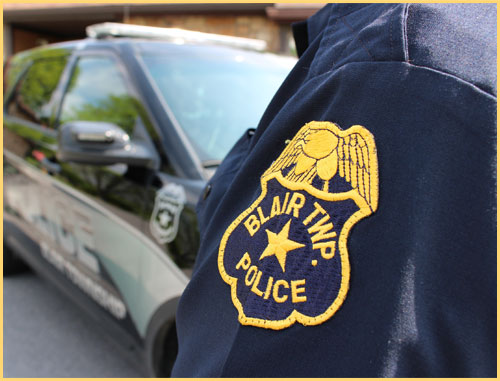 The Blair Township Police Department was established in 1966 with a part time Chief and several part time officers. Today, the Department consists of five full time officers: Chief of Police Roger White, Sergeant Roger Peacock, Jr., and three Patrol Officers, Nathan Hale, Ben Shanholtz, James Brantner.
OUR MISSION:
It is the mission of the Blair Township Police Department to safeguard the lives and property of Township residents, reduce the incidence and fear of crime, and enhance public safety while working with the Community to improve their quality of life. The Blair Township Police Department will pursue its mission with honor, courage and integrity, while at all times conducting themselves with the highest ethical standards in order to maintain public confidence.
OUR GOALS:
> Reduction of crime and the fear of crime by proactively trying to prevent it and aggressively pursuing violators
> Performance of duties with the knowledge that the protection of lives and property of Blair Township citizens is paramount and laws are enforced impartially
> Maintaining honesty and integrity in both personal and professional lives, thereby earning public respect and trust
IN MEMORIAM:
Patrolman Turek was shot and killed after responding to a domestic dispute. While on the scene a chase ensued and Patrolman Turek attempted to prevent the suspect from entering the house, where it was known the suspect had several weapons. The man then pulled a concealed handgun and shot and killed Patrolman Turek and wounded another officer. The wounded officer was able to return fire and killed the suspect. Patrolman Turek had been with the agency for three years and surviving are his wife, son, daughter, parents, siblings, and grandchildren.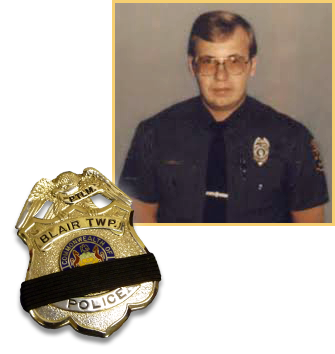 HISTORY OF BLAIR TOWNSHIP POLICE DEPARTMENT: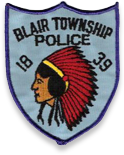 The Blair Township Police Department was formed in 1966 by the Blair Township Board of Supervisors when Maurice Chamberlain was hired as part time chief and a part time patrolman was hired. The early years of the Department were more of a confederacy of police officers working for the Department with the officers working at their discretion. In 1977, the Supervisors moved Richard Clapper, the Chief of Police, to full time status and added a full time patrolman, Denny White.
In 1976, the Township entered into an agreement with the Pennsylvania State Police to provide dispatching services known as Blair Base. Prior to this, when an emergency occurred, the resident would call Chief Chamberlain's house and the police would be dispatched by citizens band radios. During the early years, Officers used their own vehicles as patrol cars and furnished their own uniforms and equipment. Other local Departments would later be added to form a police network. The service provided a central center for dispatching with direct access to the NCIC police computer network for instant information.
In 1977, the State required all police officers to be certified under Act 120, the Municipal Police Officers Training and Education Act. All officers of the Department are certified under this program.
The Township Department took a major step in the upgrading of the Police Department in 1979: the opening of the Regional Police Record and Criminal Identification Center at Hollidaysburg, of which, the Blair Township Police Department became a part. The Regional Police Record and Criminal Identification Center provided a unified system of record keeping and supplied the participating Department with equipment that was needed to process crime scenes and people suspected of committing crimes. The system was funded by two grants from the Governor's Commission on Crime and Delinquency.
K-9 Max, a German Shepherd, joined the Blair Township Police Department in 1979 as well and served faithfully and with honor until retirement in 1985. He was followed by K-9 Sebastian, also a German Shepherd, who served faithfully and with honor. Both K-9's were handled by Thomas Miller.
During this time, the police operated from the basement of the residence of Ray Cochran, the Township Secretary. During 1979, the Department was based at the Carberry Auto Parts Building on Allegheny Street in Hollidaysburg, Pa. When the new Township Building was opened in 1980, it moved to its current location at Cedarcrest Drive, Duncansville, Pa.
On March 27, 1985, the Department was shaken by a loss of one of its members when a domestic incident resulted in the death of one officer and a second officer being wounded. To date, Ronald L. Turek is the only member of the Blair Township Police Department to make the supreme sacrifice in the line of duty.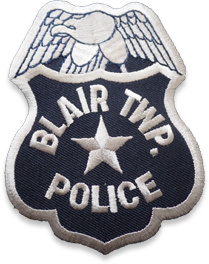 Blair Township entered the digital age in 1995 when the Board of Supervisors approved a computer system. The system was setup by then Officer Dale DeLozier, and all the work was done by members of the Department. Over the next year, the system was expanded to include a records system, photo records system and voice mail system. The system was upgraded in 1999.
From 1996 to 1999, the Township was represented by and contributed to the Fallen Officers' Memorial which was dedicated in 1999 at the Blair County Courthouse. The family of Officer Turek took part in the dedication ceremony.
The current Chief of Police is Roger A. White. Roger Peacock, Jr. currently serves as Patrol Sergeant, and Nathan Hale, James Brantner, and Matthew Fleck as full time patrolmen. The Department has no part time officers.
PAST OFFICERS OF THE BLAIR TOWNSHIP POLICE DEPARTMENT:
>

Roger White (Retired)

>

Wayne Allinder

>

Chief Maurice Chamberlain

>

Chief Richard A. Clapper (Retired)

>

Dale A. DeLozier

>

Timothy Gearhart

>

Asst. Chief Jeremy C. Hetrick

>

Ronald L. Hinish, Jr.
>

Chief Randall Lingenfelter (Retired)

>

Chief Thomas D. Miller (Retired)

>

Thomas O'Leary

>

David Skurnik, Jr.

>

Richard Stock

>

Ronald Stock

>

Benjamin Shanholtz
>

David Shiffler

>

John E. Stiner

>

Jerry Stephens

>

Ronald L. Turek (Killed in Line of Duty)

>

Dennis White

>

Clinton Vazquez

>

K-9 Max (Retired 1985)

>

K-9 Sebastian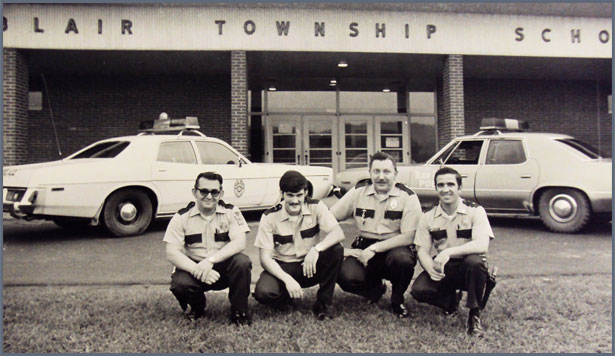 In Photo from Left to Right: Chief Richard Clapper. Patrolman Dennis White, Patrolman Jerry Stephens, Chief Thomas Miller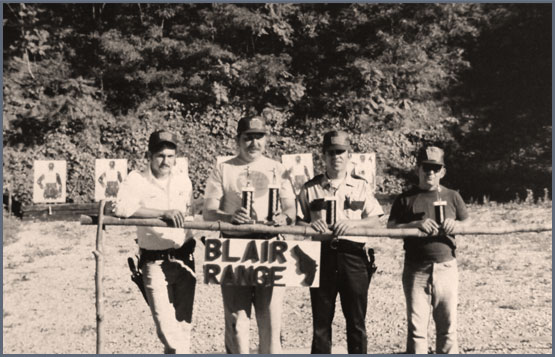 In Photo from Left to Right: Patrolman Dennis White, Patrolman Jerry Stephens, Chief Thomas Miller, Chief Richard Clapper
DEPARTMENT NEWS:
SCAMS/ID THEFT:
No New Reports
WHEN TO CALL 911:
USE 911 FOR EMERGENCIES:
An emergency is when you absolutely need the police, Fire Department or ambulance immediately. Emergencies include crimes that are in progress or about to happen, as well as ones that have resulted in serious personal injury, property damage, or property loss. They also include situations in which the suspect may still be at the scene and some suspicious activities appear to be underway. By calling 911, you will be linked to the appropriate police as well as fire fighting, medical, and ambulance services. You do not need money to call 911 from a pay phone.
NON-EMERGENCY CALLS:
Please remember that if you use 911 for a situation that is not an emergency you could tie up the line for someone who does have a real emergency. Dialing 911 is NOT the number for general information. Please use (814) 696-3846 to contact the Police Department if you do not have an emergency.
SITUATIONS TO CALL 911:
Some examples of situations that are appropriate for 911:
>

Life threatening medical emergencies

>

Fire or smell of smoke

>

Vehicle crashes involving personal injury

>

Fights or sexual assault

>

Homicides

>

Burglaries & robberies

>

Domestic violence

>

Child or elder abuse
>

Flashlight beam in a business/home, especially if the business is closed or residents are away

>

Sounds of gunshots, screaming, breaking glass, explosions, alarms, etc.

>

Hit & run accidents with possible injuries

>

Vehicles containing weapons or property not normally kept in vehicles

>

Dumping or spilling of fuel or other hazardous substances

>

Road hazards that require immediate attention to prevent personal injuries & property damage

>

Graffiti and other acts of vandalism in progress

>

Missing person who needs special care – be sure to tell the operator is the person needs medication & has a special problem (e.g., Alzheimer's disease)
REPORT TO THE POLICE:
Report persons who are:
>

Driving under the influence of alcohol or drugs

>

Entering a neighbor's home when neighbor is absent

>

Forcing an entry of a home, business, or vehicle

>

Exhibiting unusual mental or physical symptoms that pose a threat to him/herself or others

>

Removing property from a business, home, or vehicles, especially if the business is closed or the residents are away
>

Carrying or wearing bloody clothing

>

Carrying a gun in plain view

>

Struggling with a resisting child

>

Trying to or actually using a vehicle to pick up a person by force, especially a child or female
ALERT BLAIR COUNTY:
Blair County has implemented a county-wide public emergency notification system. With this system, the Blair County 911 Center will be able to alert you in the event of an emergency. Land lines are automatically registered in the system. If you would like to add your cell phone or email address to this alert system, please visit the Alert Blair County Registration webpage.
WHAT IS ALERT BLAIR COUNTY:
Alert Blair County is a public notification system. A public notification system is a communication system that is used to inform citizens in the event of an emergency. This can greatly speed up evacuations that will help save lives. This public notification system can inform them by either a phone call to a home phone or cell phone, text message, or by email.
WHAT TYPE OF SITUATIONS MAY YOU BE NOTIFIED OF?:
>

FLOODING

>

EARTHQUAKES

>

FIRE

>

CHEMICAL SPILLS
>

ROAD CLOSURES

>

AMBER ALERTS

>

TERROR ALERTS
>

POLICE ACTIVITY

>

CONTAMINATED WATER

>

BOMB THREATS
>

WEATHER WARNINGS

>

EVACUATIONS

>

SCHEDULED EXERCISES
IMPORTANT FORMS:
BUSINESS SURVEY:
The Blair Township Police Department requests that all businesses within its jurisdiction complete a business survey form. A business survey takes a few minutes to complete, and provides vital information to police, fire, and ambulance personnel in the event of an emergency, especially after business hours. The form contains information on alarm companies, and contact personnel that are key holders that business owners designate to respond in the event the business owner is unavailable. This information is secure and used for police purposes only.
The Blair Township Police Department recommends that a new Business Survey Form be completed immediately upon opening for business, and updated annually due to changes in hours of operation, personnel, and other circumstances that affect your business security.
Business Survey Forms can be completed online or by calling the Blair Township Police Department at (814) 696-3846 and speaking with an officer.
COMMENDATION & COMPLAINT PROCEDURE:
The Blair Township Police Department is proud to provide modern quality police services to the citizens of Blair Township and all who visit. The Blair Township Police Department is continuously striving to improve the quality of its service by monitoring the performance of its employees.
The Police Department is sincerely interested in both rewarding above average performance and in taking corrective action in those instances where an employee's performance fails to meet acceptable standards.
To commend, compliment, or complain about the performance of a Blair Township Police Officer, please notify the Chief of Police by coming to our station at 375 Cedarcrest Drive, Duncansville, Pa; by mailing your comments; or by telephone at (814) 696-3846, extension 108.
CRASH REPORT REQUEST:
Download our Crash Report Request Form to request a specific crash report from the Blair Township Police Department.
VIEW CRASH REPORT REQUEST FORM >>
VACATION HOME CHECK:
The Blair Township Police Department will conduct exterior security inspections of your home while you are on vacation. You can also notify us by calling (814) 696-3846 or stopping by our office at 375 Cedarcrest Drive, Duncansville, Pa. Requests should be made at least 72 hours prior to your absence.
SUBMIT VACATION HOME CHECK FORM >>
SUBMIT A TIP:
The Blair Township Police Department and our community depend on its citizens to report crimes promptly and support the crime prevention efforts of local police. If crimes go unreported, little can be done to prevent other members of our community from becoming victims. You can help by reporting suspicious and criminal activity immediately.
The anonymous tip form allows you to report suspicious or criminal activity in your neighborhood without providing your name. It is not to be used where you expect a police officer to contact you the same day or for an emergency situation. If it is an emergency, dial 911. If you need an officer to respond the same day, call (814) 940-5950 for dispatch, 24 hours a day.
You can also report crime through the Blair County Crime Solvers at 1-800-422-8802.
You can report drug activity to the Push Out the Pusher Hotline by calling (814) 693-3020.
Please complete as much of the form as possible. Sending your personal information to us is not required; however, if you would like to be contacted about your concern, please complete the name, phone number, and email boxes prior to submitting this form and someone will contact you.
It is our policy not to trace the origin of an email sent via this form unless it is in the interest of public safety. All information will be investigated before any action is taken. Reports that are determined to be false will be designated as unfounded.
BECAUSE WE CARE:
We are honored to be presented from Because We Care the very first order of bears to the Blair Township Police Department. These bears will be handed out to children that the officers come in contact with during a difficult time in their young lives. The goal is to provide comfort and hope to a child when they need it the most. We are very proud to be a part of this wonderful program. We are looking forward to the positive impact this will have in our community!
The goal of Because We Care is to provide comfort to children suffering from a traumatic event. Police meet children on a daily basis who are coping with situations such as car accidents or the arrest of a loved one. A gift of a stuffed animal can provide them with a level of comfort. The officers allow the children to name the bear whatever they wish: giving the child something they can control when everything else is out of their control at the time.
Follow the Because We Care Facebook Page for more information about this program: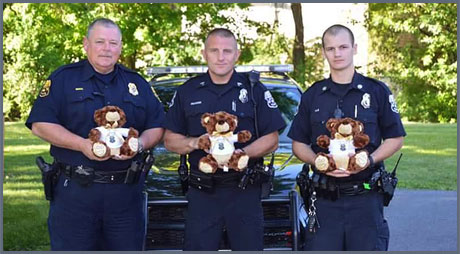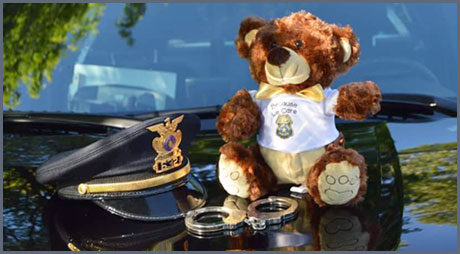 BLAIR COUNTY POLICE DEPARTMENT FAQS:
Q: WHAT SHOULD I DO IF I AM PULLED OVER BY A POLICE OFFICER?
A: If you are driving and a police car signals for you to stop, please pull as far to the right of the roadway as possible and stop your vehicle as soon as you safely can. Remember, all police vehicles in Pennsylvania, and only police vehicles, are equipped with both red and blue lights. Try to remain calm, even if you are unsure as to why you were stopped, or if you don't believe you did anything wrong. If it is dark outside turn on your interior light so the officer(s) can see inside your vehicle.
Try to keep your hands in an area where the officer(s) can see them (i.e. preferably on the steering wheel). This is to help reassure the officer(s) that you aren't looking to harm them. Unfortunately, a large number of police officers are feloniously killed or assaulted every year across the United States on traffic stops. Most of these stops started for what seemed to be a minor violation. That being said, police officers are trained to be prepared for the worst possible scenario, even though the vast majority of persons stopped have no intentions of harming them. Do not exit your vehicle unless you are asked to (this includes any passengers).
When the officer approaches your vehicle, he/she will inform you of the reason for stopping you. You will most likely be asked to produce a driver's license, vehicle registration paperwork, and proof of valid auto insurance. The officer will probably allow you to explain your actions that led them to puling you over. Please try to do this in a respectful manner, even if you disagree with them. The officer should treat you with the same courtesy.
If you lawfully possess a firearm on your person or in the vehicle, and believe that it may become exposed to the officer's view, notify them before reaching for anything that may expose it. The officer will then instruct you on how he/she wants to handle the situation. You will probably be asked to display a valid license to carry a concealed firearm. Note: Pennsylvania law requires anyone that carries a loaded handgun concealed on their person, or in a vehicle, to have a lawfully issued license to do so, unless they are exempt under the statute.
An officer typically has several choice as to how they are going to handle a traffic stop. These choice can be dictated by several factors that the officer has to take into consideration. He/she may give you a verbal warning for the infraction, issue you a written warning notice, issue you a state traffic citation(s), or make an arrest if circumstances warrant one. Also, your vehicle may be legally towed under certain guidelines (e.g., no auto insurance, suspended driver's license or vehicle registration, etc.) You are entitled to disagree with the course of action the officer chooses to take. If you are issued a citation, or even arrested, it only means the officer believes there was sufficient reason for them to charge you with a violation (also known as "probable cause").
You are entitled to defend yourself against the charge(s) in a court of law and are not presumed as being guilty because you were cited, or even arrested. However, bear in mind that the side of the roadway is no place to argue your case if you disagree with the officer. You may not legally resist the officer's attempt to cite you or arrest you, even if you believe they are wrong. Doing so will only make a bad situation worse. Try to keep your emotions in check and stay composed. The officer(s) are expected to treat you professionally and courteously, but that they are allowed to reasonably defend themselves against any aggressive, threatening, or hostile behavior. You may request an officer's name and badge number and they should provide it to you before concluding the stop (if you are issued a citation it is contained on your copy).
When cited, you have two options. You may plead guilty by contacting the District Court listed on the citation and arranging payment of the fine and costs. You may plead not guilty by contacting the District Court listed on the citation and arranging a date for a hearing before the District Justice. The officer who issued you the citation will also appear at your hearing. You may be required by the District Court to post the amount of your fine and costs prior to your day in court. You will receive these funds back following the hearing if you are found not guilty.
We know it's never pleasant for a citation to be ticketed. But for everyone's safety, Blair Township Police Department takes its responsibility for enforcement of traffic laws seriously.
Q: I WAS PULLED OVER AND ISSUED A TRAFFIC CITATION. IF I PLEAD GUILTY OR AM FOUND GUILTY IN COURT, ARE THESE POINTS ASSESSED AGAINST MY DRIVING RECORD?
A: Not all offenses in the Pennsylvania Vehicle Code carry demerit points if you plead guilty or are convicted. Click on the following link for more information on the Pennsylvania's Department of Transportation's point system.
Q: WHO IS THE DISTRICT JUSTICE FOR BLAIR TOWNSHIP AND WHERE IS THE OFFICE LOCATED?
A: The elected District Justice for Magisterial District Court 24-3-03 is Paula Aigner. District Court 24-3-03 is located at 311 Union Street, Hollidaysburg, Pa 16648, and the phone number is (814) 693-3210. Office hours are 8:00AM-4:00PM Monday through Friday, closed weekends and holidays.
Q: DOES BLAIR TOWNSHIP HAVE A CURFEW?
A: Yes it does. The curfew law applies to minors (anyone under the age of 18) and is in effect every day between the hours of 10:00PM and 6:00AM. During these times, minors are forbidden to remain in or upon any highway, park or other public place within the Township or in any enclosure or vehicle which is on or in close proximity to any such public place within the Township.
There are some exceptions to the ordinance which may be viewed at Chapter 6: Conduct of the Ordinances.